Netwerkbijeenkomst
Research Software Community Softlaunch
Datum

woensdag 29 maart 2023

Tijd

Toelichting

De voertaal van deze bijeenkomst in Engels. Aanmelden via email: d.a.rudmann@library.leidenuniv.nl

Bezoekadres

Zaal

Centre for Digital Scholarship, 0.28 begane grond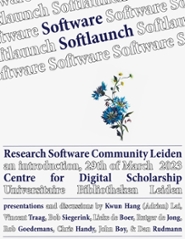 What does Research Software mean (to you)?
How might Leiden University support software for research?
We will explore the answers to these questions and many more when the Research Software Community Leiden comes together for its first meeting on Wednesday, March 29, 2023.
If you are intersted to join the lauch meeting or the community, or if you just want to know more about our activities dealing with research software, please send an email message to our Research Software Community Manager Dan Rudmann, d.a.rudmann@library.leidenuniv.nl
Our agenda for this event:
An introduction to the Research Software Community Leiden, alongside Leiden's commitment to support research software.

Presentations on work related to software and digital infrastructure by people across Leiden University and beyond.

Discussions on what the Research Software Community Leiden should aspire to be or do for people as it begins to take shape.